Brothers Bob and Paul Ewersmann went into business together in 1978. They started primarily as an evergreen service, providing trimming and spraying to customers throughout St. Charles County. In 1979, they purchased A&B Nursery in Lake St. Louis, Missouri from their former employer upon his retirement. They purchased equipment and 6 trucks from A&B and started growing a new nursery in St. Paul, Missouri.

They also continued to provide evergreen services for the former A&B customers, several of whom they still service today.
In 1990, Bob and Paul purchased their first red Ford truck, beginning a transition from the green trucks. Today you will often see their distinctive red trucks with oak gates working throughout St. Charles, St. Louis, Warren and Lincoln Counties.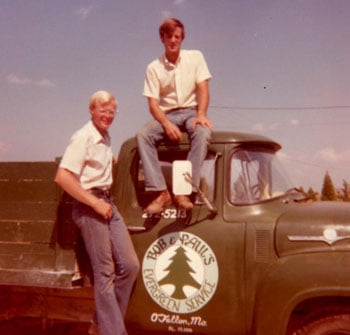 In January 2014, Bob retired after landscaping for over 40 years. After his retirement, the nursery continues with the next generation. Michael Ewersmann, (Paul's son), joined Paul as a co-owner. Today, their evergreen and tree nursery in St. Paul has grown to 18 acres, and their fleet of trucks has grown to 12, yet Paul and Michael maintain a tradition of focusing on their customers and employees.
Bob & Paul's full-time crew averages over 20 years of experience. There are 6 full-time employees who work for the nursery year-round. Part-time workers include teachers, retirees, and college students. Former college students are now clergy, a district attorney, architects, engineers, physical therapists, and CPAs.
Since the beginning, Bob & Paul's has taken pride in offering the finest quality of evergreens, shrubs, and landscaping design and installation available. Paul or Michael will personally design your landscape to meet your needs. Call today!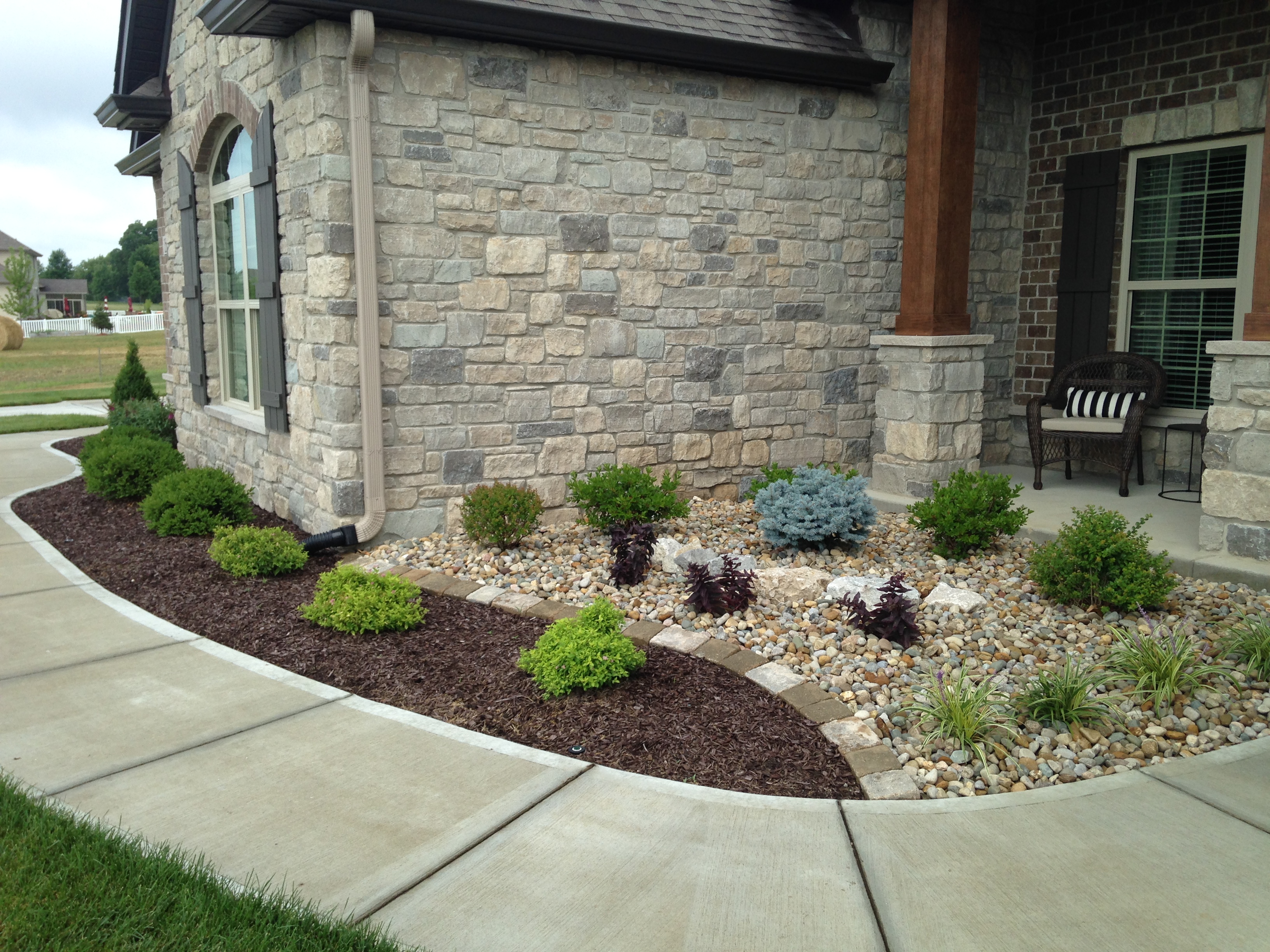 Landscape Installation
We offer full landscape installation including:
- Foundation Plantings

- Large Evergreens
- Shade Trees
- Ornamental Trees
- Retaining Walls
- Edging
- Rock Mulch
- Mulch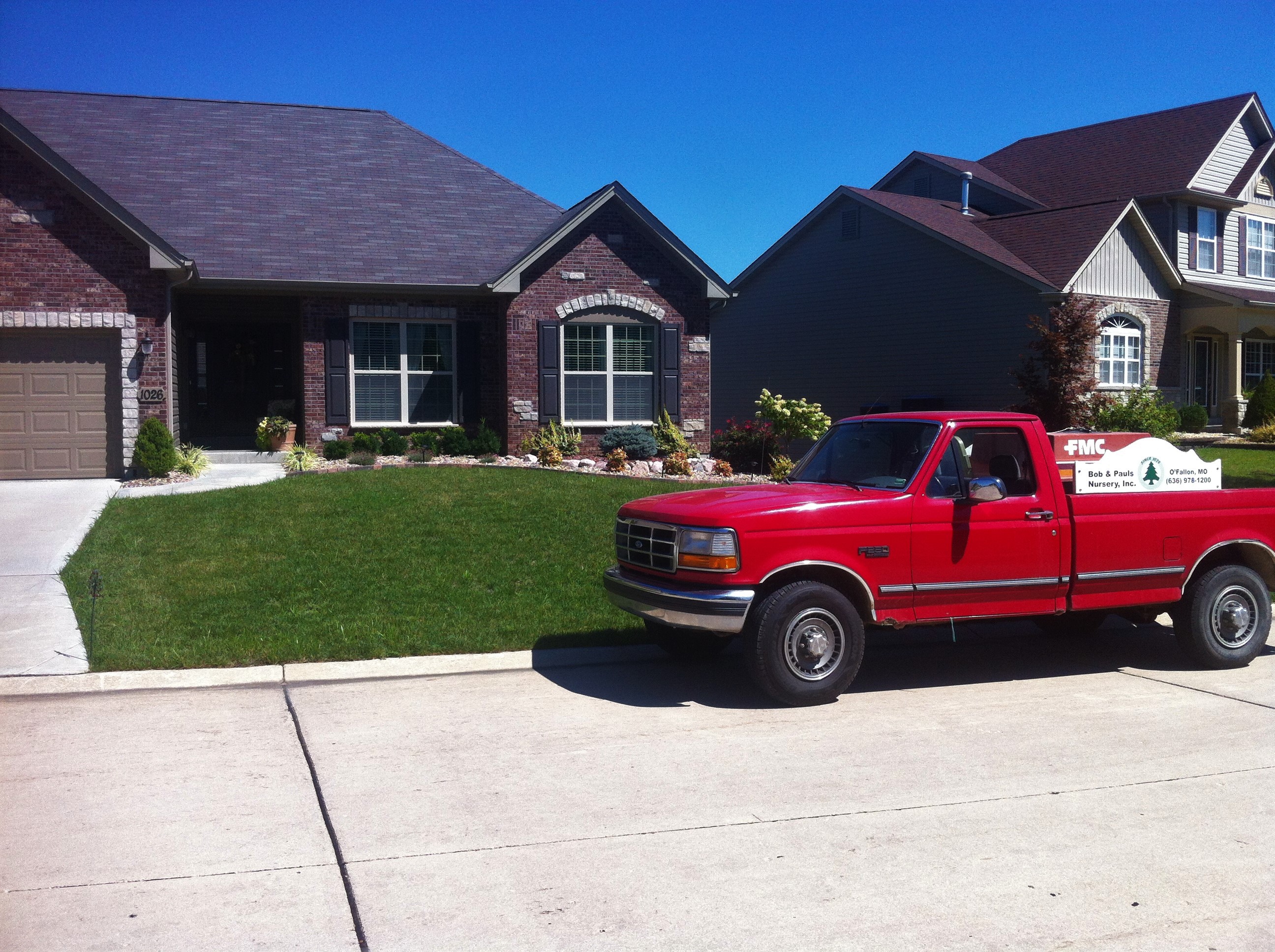 Power Spraying
We offer a twice a year pesticide application to protect trees, evergreens, and shrubs from foliage eating insects. Applications are made in June and July/August. Our pesticide applications prevent damage from bagworms, red spider mites, aphids, caterpillars and Japanese beetles.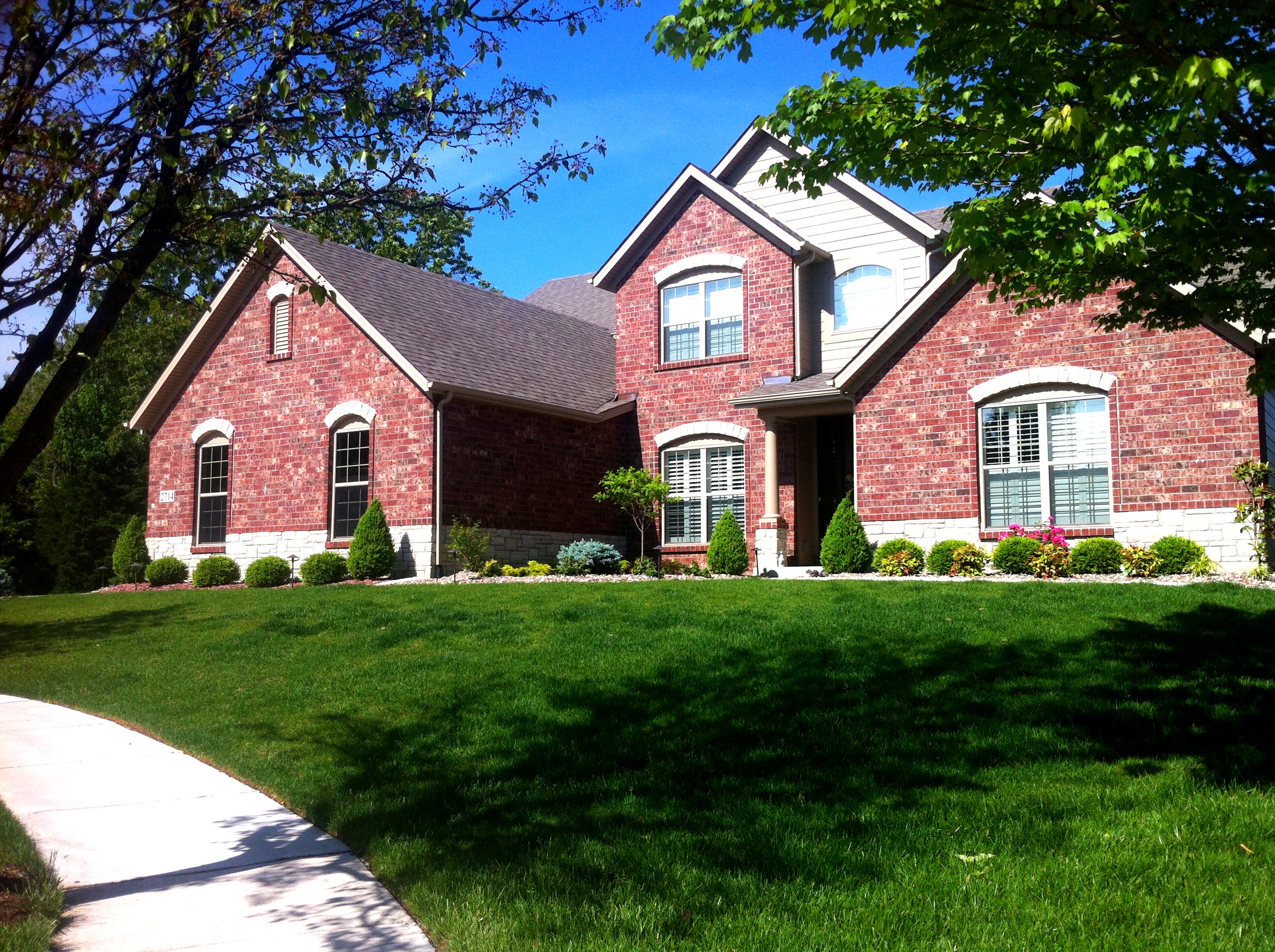 Fertilizing and Trimming
Bob & Paul's Nursery currently sprays and trims shrubs for over 1,000 homes and businesses in the area. Our fertilizing service is a deep root soil injection with organic slow-release fertilizer. Fertilizing is performed in late winter to ensure nutrients for spring growth.



Customer Testimonials
See what our customers are saying about us! Find out why 99% of our customers were referred to us by friends, family, co-workers, and neighbors.

"This note is to thank you and your co-workers on the excellent job you did landscaping our yard. Many of our neighbors have commented on how different the house looks! There is no part of it I don't just love. In the future I will recommend you to all my new home buyers. Thank you again on a job well done." Penny B.
"I just wanted to say thank you so much for the landscaping job. It looks so good and I appreciate you coming up with a design that was in my budget. Every day now when I pull into my driveway, I feel so happy to see how good everything looks. You and your crew did an awesome job!" Pam G.

"We wanted to thank you for the BEAUTIFUL landscaping around our house. It looks like a different house. ALL the guys that came out were VERY COURTEOUS and HARD WORKING and did a WONDERFUL JOB. WE LOVE IT ALL. This house needed landscaping badly; you definitely gave it curb appeal. We love turning into our driveway and seeing the difference now. Thanks again." Roland K.

"We are extremely happy with the landscaping and masonry work. It is a joy pulling into our driveway. More importantly, your guys were great to work with, and kept us informed every step of the way and made the whole process great. I have posted pictures on the internet and wrote of how pleased we were with the work. Feel free to use us as a reference. Jerry S.

"Thank you! The work that you and crew did at my house is incredible. I'm just amazed how great both the front of the house and the backyard look. My neighbors have commented on how great everything looks and how quickly it all happened. Again, thank you, it is all just beautiful. Cathy F.
"Thank you so much for a great job. The more I see it, the more I like it. Looking forward to spring when everything blooms." Toni
"Thanks for doing such a beautiful design at the cabin. It is better than we imagined. It is a pleasure to know you, and benefit from your work ethic, dedication, creativity, and friendship." Nancy M.

"Thanks for doing such a beautiful job on my backyard landscaping. You and your crew are so nice to work with. A great group of guys!" Ann E.